Now through the end of the year, Traveler's Joy will reveal its "Next" honeymoon destinations for 2012. These locations are up-and-coming travel spots that should be on your radar for an upcoming honeymoon trip. While the unique destinations may come from all corners of the globe, they each offer a core of key elements crucial for any once-in-a-lifetime trip: new experiences, relaxation, and romance. Check back often this month to see which destinations make the list.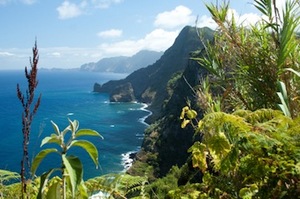 Madeira, Portugal
A popular vacation spot with Europeans for centuries, Madeira is now gaining traction with Americans and many other worldwide travelers. Renowned for its colorful flora, fortified wine, jagged peaks and lush canyons, plus the largest fireworks show on the planet, this stunning Portuguese island (about 500 miles SW of Portugal) offers honeymooners a little bit of everything.
If warm year-round temperatures, ample outdoor activities, a laid-back European ambiance, and five-star luxury resorts all sound enticing to you, consider Madeira for your 2012 getaway.
The island of Madeira is actually a giant shield volcano that rises from the floor of the Atlantic Ocean, giving way to dramatic cliffs, soaring mountains, and rich volcanic soil. Expect to find an amazing display of plants and flowers, volcanic caves, lava tubes, orchid gardens, massive sea walls, botanical gardens, and endless scenic viewpoints. While beaches are few and far between here, there are plenty of golden stretches of sand on the nearby island of Porto Santo.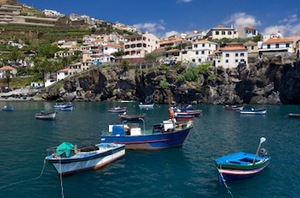 When it comes to outdoor experiences, the Atlantic hideaway has no shortage of options. Couples can choose from hiking, deep-sea fishing, snorkeling, scuba diving, golf, and even thrilling toboggan rides down the steep city streets of Monte. Meanwhile, the extreme eastern part of the island (Ponta de Sao Lourenco) is a nature reserve and provides exceptional hiking experiences over undulating terrain. Expect to be overwhelmed by mountain backdrops, historic sites, plenty of fauna (whales are a common sight just offshore), and panoramic views of the ocean. Be sure to pack some food and local wine for a most romantic picnic.
Book a room at The Cliff Bay, a spectacular five-star resort set high along a peninsula in the capital city of Funchal. Arrive in late December just in time for the End of the Year Festival, featuring dazzling fireworks over the city, plus parades, music, and dancing.