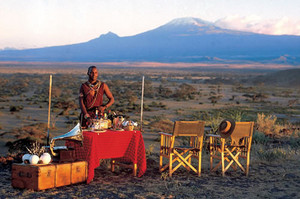 Found on most people's "bucket list," an African safari is the ultimate vacation. For newlyweds looking for a non-traditional cookie cutter honeymoon, a trip to Africa gives couples both the adventure they're seeking and a truly memorable beginning as husband and wife. Picture yourselves sipping coffee side by side while watching an elephant herd graze. Does it get any better than that?
While the idea to take part in an African safari sounds exciting, it's also a rather daunting task to commence planning. Wedding plans are stressful enough and imaginably so, the last thing a couple wants to worry about is their supposed stress-free honeymoon. So where to begin? When it comes to planning for an uncharted territory such as Africa, it's always better to seek out the experts.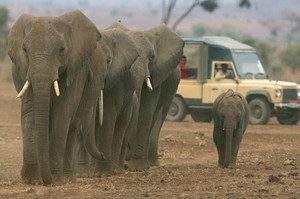 There are many companies dedicated to creating the perfect trip for couples not only with the safaris themselves but also with the strong emphasis on the "honeymoon" part, adding on romantic twists to the journey along the way.
Couples should consider The Hills of Africa Travel or & Beyond Africa which both aim to give travelers the vacation of their dreams but also strongly catering to honeymooners. They will custom-plan your dream vacation, help you gather tips, and give you lodging specifics and destination details about your journey. With different itineraries to choose from, you can select the perfect locales to satiate your adventurous side down to luxurious lodges in romantic scenery to lay your heads at night and relax.
So why consider an African honeymoon? It's simple. The memories you'll get out of your once-in-a-lifetime trip will last you just that: a lifetime. With its exotic and mysterious aura, it's easy to see why adventurous couples might find Africa their perfect honeymoon match. So let the experts plan it for you. Sit back and bask in the beauty of this continent, together.