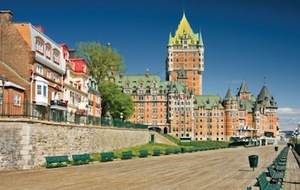 Mini-Moons are quickly becoming a popular honeymoon alternative for newlyweds. Ideal for those with budget limitations, timing constraints, or little vacation time set aside, a mini-moon will still enable couples to get away to an unforgettable destination for a few days, even if it's not Paris or Hawaii. Here are five destinations to put on your list for 2012.
Quebec City
Expect old-world charm and European-like ambiance in this historic capital city. As the only completely walled city in North America, Quebec is absolutely enchanting and easily one of the most romantic cities on the continent. Meander down cobblestone streets in the Old Town, which consists of two distinct sections filled with lovely cafes, specialty stores, galleries, and unique shopping destinations.
In addition to being a foodie destination, Quebec is also noted for its museums, historic sites, and frequent public events like the famous Carnaval de Quebec. Stay in a historic B&B in the Old Town or go for a contemporary boutique property downtown such as Auberge Le Vincent. Either way, you can expect an extraordinary and most romantic trip to one of North America's oldest cities.
New Orleans
The beat still pulses in the "Big Easy." This energetic and historic city has seen a resurrection following Hurricane Katrina, and the culture, entertainment, and dining options have never been better.
New Orleans is certainly noted for its nightlife, as swingin' jazz clubs, cocktail bars, festive Mardi Gras parties, and countless street musicians can be found all across the city. Stop by can't-miss spots like Jackson Square, Bourbon Street, and the Woldenberg Riverfront Park for a mix of the past and present. Then experience the city like a local by visiting galleries in the Warehouse District and seeing some live music at the Maple Leaf in the neighborhood of Carrollton.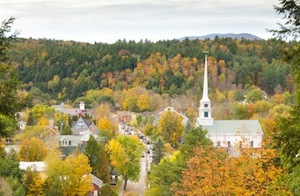 Vermont
Vermont is a tremendous mini-moon destination no matter the season. With majestic mountains, charming small towns, luxury resorts, and easy access to active pursuits, the state caters to every personality.
First, head to Burlington, Vermont's largest city and cultural hub. Make your way to the Church Street Marketplace, a lovely downtown pedestrian district comprised of local coffee shops, bakeries, bars, and art galleries.
Meanwhile, a must-do for any visitor to Vermont is a scenic road trip along Route 100 through the heart of the state and the Green Mountains. Along your route, you'll follow mountain valleys to many picturesque New England villages like Ludlow and Weston. Next, make a detour to Stowe for a romantic weekend. After walking hand-in-hand in Stowe's idyllic downtown, enjoy some of the region's luxury spas, fine dining spots, outdoor activities, and amazing views. Unpack your bags at the Stowe Mountain Lodge, ranked as the No. 5 Resort in the U.S. in a recent Conde Nast Traveler Reader's Choice Poll.
Key West
Noted for its party atmosphere, many outdoor pursuits, and overall laid-back vibe, Key West is a highly recommended choice for a memorable mini-moon getaway.
Indulge in the island's fantastic seafood restaurants, saloons, and cafes. Get a first-hand look at the region's history and culture by visiting the Audubon House and Tropical Gardens, the Ernest Hemingway Home & Museum, or Fort Jefferson in Dry Tortugas National Park. Finally, embrace the great outdoors through a fishing trip, kayaking excursion, or bike tour of the Old Town.
Arizona
The state of Arizona is well known for its diverse terrain, climates, and cultures, which includes 22 Native American tribes. But perhaps the biggest reason why Arizona remains such a draw for mini-mooners is the perpetual sunny weather. With very little precipitation throughout the year and pleasant temperatures in the winter, spring and fall months, the destination towns of Tucson, Sedona, and Scottsdale feature some of the top luxury resorts, spas and golf courses in the country. Of course, having the backdrop of towering mountains and gorgeous desert landscape doesn't hurt, either.
Consider visiting the pleasant town of Sedona, which is surrounded by majestic buttes and red-rock mesas. For unforgettable experiences, see the region via hot air balloon, Jeep tour, or hike the loop trail around Bell Rock and Courthouse Butte.
Also, be sure to read our first mini-moon blog entry this year highlighting four other hot destinations in the United States.