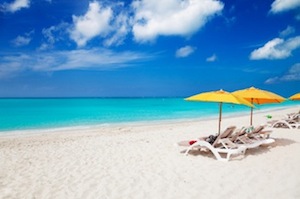 If it's been a struggle to zero in on a perfect beach destination for your upcoming honeymoon, then consider one of TripAdvisor's top five world beach destinations for 2011. Chosen by real travelers, these spectacular hotspots derived from the highest rated TripAdvisor reviews of the year. After reading about these incredible beach getaways, we think you'll be ready to make your ultimate choice.
1) Providenciales -- Turks and Caicos
Thanks in part to its gorgeous beaches, this once-sleepy Caribbean island has quickly emerged as one of the world's hottest honeymoon spots. With a barrier reef protecting the shores of the island, many of the beaches on Providenciales offer soft white sand, calm clear water, and great opportunities for swimming, diving, and snorkeling.
First, make your way to Grace Bay Beach, widely regarded as the crown jewel of the island. Meanwhile, other can't-miss spots include Smith's Reef and Iguana Island. At Smith's Reef, divers can follow an underwater trail with signs that provide information on the reef's ecosystem.
2) Boracay -- Philippines
Although tiny at 4.5 miles long, Boracay boasts some of the world's finest beaches. It also features tremendous variety for such a small island. For water sports enthusiasts, Bulabog Beach is the place to be, especially when it comes to kiteboarding and windsurfing. For romance, make your way to Balinghai Beach, a secluded spot ideal for newlyweds. Meanwhile, White Beach is the island's claim to fame with its sandy shores, spectacular sunsets, and easy access to resorts, restaurants, and shopping.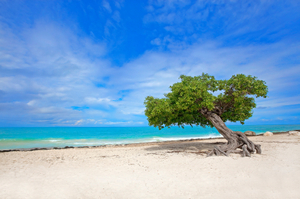 3) Palm/Eagle Beach -- Aruba
Aruba has long been a go-to honeymoon spot with its phenomenal stretches of sand and unparalleled diving opportunities. Now, see for yourself why this beautiful Caribbean island has been such a magnet for travelers.
Start out by visiting Palm Beach on the island's west side. This lively spot has perfect conditions for swimming and is a great location for fishing, snorkeling, and people-watching. A bit more relaxed than Palm Beach, Eagle Beach is a favorite among locals thanks to its white sands, crystal clear waters, and excellent water spots.
Aruba is also one of the world's top destinations for divers. With abundant coral formations, colorful sea life, and dozens of wrecks to explore, the options are seemingly endless.
4) Negril -- Jamaica
Set out on the dry, western tip of Jamaica, Negril is home to the island's top beaches. Start out at Seven Mile Beach, a soft, white-sand beach in the middle of the action. Aided by a protective coral reef system, the tranquil waters at Seven Mile Beach translate to amazing swimming and snorkeling pursuits. Negril has long been known for nude sunbathing, too (if that's your thing).
5) Tulum -- Mexico
Unique for its blend of history, romance and modern comforts, it's no wonder that Tulum comes in at No. 5 for top beach destinations. History buffs will quickly fall in love with Tulum. The ancient city - one of the last places that the Mayans built and occupied - is now considered one of the finest Mayan preservation sites.
Meanwhile, the beaches at Tulum provide plenty of options for honeymooners. Towards town, there are miles of wide, sandy beaches backed by picturesque cliffs. To get away from the crowds, head south of town towards Punta Allen and look for a secluded stretch of sand to walk hand-in-hand.