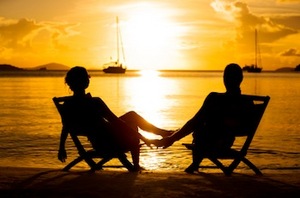 *A guest post from our friends at Hotels.com--Where you go for cheap hotels no matter the location of your honeymoon.*
Often in the rush to get everything ready for the wedding day, honeymoon planning is something that takes a back seat until it is nearly too late. There is nothing worse than realizing that your dream trip to Bora Bora isn't possible because you did not plan in sufficient time to obtain passports and visas or that the all-amenities-included hotel at your destination has already booked the honeymoon suite.
To avoid these and other mishaps, it is important to start planning the honeymoon almost as soon as you start planning the wedding. If you do, the chances of something going wrong will be greatly reduced, and you'll be able to relax knowing that you have done everything possible to make sure this trip goes off without a hitch.
Set Your Budget
Know what you can spend on a honeymoon and what you absolutely can't. This is probably the biggest factor in determining how far you can go and once you can do when you get there. This is no time to be cheap (it is your honeymoon, after all!), but you also need to be realistic.
If your finances are less than what you would wish, there are some things you can do to give yourself a little wiggle room:
• Shop for hotel and flight deals online.
• Sign up for a honeymoon registry.
• Book a package vacation that includes activities and meals.
• Mention to everyone that this is your honeymoon trip to get special deals and offers.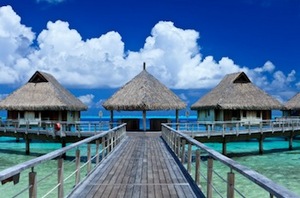 Pick Your Destination
This is the fun part of honeymoon planning. Dream big: what would you like to do for this once-in-a-lifetime trip? Where would you like to go? Ask friends and family members to get ideas. Decide whether you want a relaxing or an adventure honeymoon. Check typical weather at your destination the time of year in which you'll be taking your honeymoon. Research popular destinations online and read reviews from other couples who have been.
After you two have come up with the ideal honeymoon itinerary, adapt it to your finances. If you absolutely can't fly to France, decide what it was about France that was so appealing to the two of you in the first place. Did you imagine yourself lying on the beach all day? Try a sandy shore a little closer to home. Were you enthusiastic about the Parisian art galleries? There are world-class art museums in New York and Southern California.
When planning where to go, two things that you must absolutely consider are the hotel and the activities you want to take part in once you get there.
• Hotels and Resorts: Choose your hotel with care, since you will most likely be spending a lot of time there. Choose one that offers honeymoon "extras" like free champagne or spa services. Decide what amenities you and your spouse will need to totally relax and enjoy your experience together.
• Activities: Decide what you what you want to do when you get there. Some couples enjoy simply lying by the pool while others will want to go out and explore the area. Whatever your style, make arrangements to ensure that you will maximize your time on this trip. Plan now and book any tours, lessons, or adventures that the two of you will want to share together.
Book Your Tickets and Make Arrangements
Now that you have decided where you're going and what you'll do once you get there, make the necessary arrangements to have a happy honeymoon. Reserve rooms, buy tickets, and arrange for transportation for when you get to wherever you're going. Obtain visas, passports, and any vaccinations that may be necessary for your destination of choice. Buy, or register for, a camera and luggage. Make preparations to have someone take care of your pets or your kids.
Last Minute Worries
If you're coming up on the wedding date and everything is planned and paid for (or at least you know how you'll be paying for it), then you can breathe easy knowing that you're already ahead of the game. Before you relax completely, however, take care to arrange some last minute details:
• Pack: Make sure you're not forgetting the necessities--swimsuit, hiking boots, etc. Decide what might be cheaper to buy at your destination--snorkeling equipment, for example.
• Purchase travelers' checks.
• Make copies of your important documents--credit cards, passports, etc.
• Exchange a small amount of foreign currency.
• Leave a copy of your itinerary with a friend.
• Stop mail, and set up automatic email responses.
• Reconfirm with airlines and hotels.
• Label your luggage.
While this guide certainly cannot forestall all unforeseen disasters, following it will give you and your spouse a better chance of making the fullest of your honeymoon trip and enjoying one another's company.