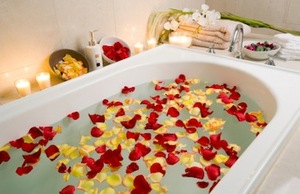 On the heels of an eventful wedding, the honeymoon is a time for couples to relax and spend quality time together as newlyweds. While simply traveling to an exotic destination can be enchanting in itself, planning a truly romantic getaway takes some extra effort. Check out these easy tips to plan a honeymoon that's filled with passion from beginning to end.
Arrange a Private Picnic
Pack a picnic just for the two of you in a beautiful location, whether it be a secluded beach, hillside, or vineyard. Be sure to bring along some food items that you both love to eat. Also, include a bottle of wine or champagne and make a toast to your new life together as a married couple.
Candlelit Dinner
Make reservations for a private dinner in an unforgettable setting. Many top restaurants even feature private dinners under the stars, in private cabanas, or on the beach. For instance, Capische Restaurant at the Hotel Wailea Maui offers an exclusive private dining experience that many guests find irresistible. Through the restaurant's interactive Il Teatro service, diners get a personal chef to create for them a specialized menu of gourmet cuisine and wine tasting -- all served in a private dining room.
Spend the Day in Bed
Take one day to sleep in and just be together in the confines of your hotel room or property. Order room service for breakfast and then pick out a movie that you both have been craving to see for a while. Keep in mind that many couples have the tendency to overplan activities during their honeymoon, leaving them exhausted and not in the mood for romance. Plan for at least one day of your trip to just unwind in the comfort of each other's arms.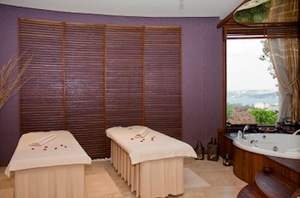 Couples Massage
Relax side by side in your very own private beach cabana or massage suite as you both indulge in an invigorating massage treatment. For those first-timers, this is also a great way for those individuals to feel comfortable receiving a massage. Choose from a number of proven techniques, like Swedish Massages, Sports Massages, Deep Tissue Massages, or even Lomi Lomi.
Add Custom Touches
Set the mood by adding custom touches throughout your honeymoon. Candles are always a great choice and can be placed in the bedroom and bathroom. Rose petals, lingerie, champagne, chocolate, and music are also ideal ways to keep the passion strong throughout your trip. If you can't pack certain items, see if your hotel can be of assistance.
Give Daily Presents
Little presents each day will be a constant reminder of your love for one another. As for ideas, consider writing a personal message or love note for your spouse and surprise them with it sometime during the day. Get them their favorite bottle of wine, plan an "impromptu" picnic, or buy a meaningful memento. Just remember, it's not about how much the present costs, but rather the thought, meaning, and effort that counts most.
Take a Bath
For many couples, simply relaxing together in a bath or Jacuzzi is often at the top of the list when it comes to romantic experiences. First, be sure to request a room that has a hot tub or Jacuzzi large enough for two adults. Then, put some champagne on ice, light candles around the room, add rose petals, play soft music, and enjoy some favorite treats like chocolate or strawberries. Be sure to add some extra touches such as bath salts and soaps, too.
Watch the Sunrise
For a most memorable and romantic experience, get up early and watch the sunrise from a unique location. Whether it's a sandy beach or majestic mountaintop, it's moments like these that you'll remember for the rest of your life. Hold hands, share a kiss, and reminisce about all of your new experiences so far together as a married couple.