Honeymoons are a time for de-stressing after the big day and a chance to celebrate your love. But most importantly, they mark the beginning of your life as husband and wife. Planning a honeymoon is often one of the most joyous check marks on the wedding "to-do" list. That's why as a couple, it's important to talk about what you are looking to get out of your honeymoon. So go ahead and register for the honeymoon of your dreams. Just make sure you follow these important tips that every honeymooner should know ahead of time.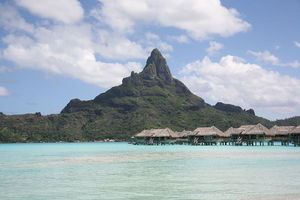 The "Ideal Honeymoon" Talk
No two individuals have the same travel style and savvy, so coming up with the perfect location for both of you is the key to maximizing this momentous occasion. Is this a time to go to that one destination you've always wanted to go? Are you looking for fun in the sun, or a stroll through a cobblestone street in search of the next historical museum? Marriage is all about compromises, and this just may be the first one you make as a cohesive unit. The most important thing is to figure out a place that both of you will have a great time together in, otherwise known as the initial "Honeymoon Talk."
Decide on a Budget
Probably one of the most important things when considering your honeymoon, it's key to figure out how much you want to spend beforehand. Decide on a "price" to help determine what kind of honeymoon you can expect. This also can narrow down your destinations. For true luxury and a "no budget" consideration, you can try a more exotic destination like Bora Bora or New Zealand. However, if things are tight, perhaps an all-inclusive vacation in Mexico or a weekend getaway to Las Vegas may be more appropriate.
Consider the Seasons
It's always crucial to consider the season you're looking to travel in. If the Caribbean is your prime destination, couples should bear in mind factors such as hurricane season, which starts in June and extends until November. While this should certainly not alter any plans, it's important to be aware that some of your trip may be spent indoors, as opposed to your ideal expectations of fun in the sun. It's also important to keep in mind that summers in Europe are overrun by tourists and that your idea of an Australia getaway in summer is in fact, their cold winter. You won't want to make the mistake of poor research and come inadequately prepared!
When deciding on where to go for your honeymoon, there are two important questions you need to ask. First, how long do you want to be away? And second, how long can you afford to be away from work? If you can only be away for a few nights, look for something close. Consider a mini moon and think of places that are better suited for shorter stays and just as much romance, such as San Francisco or New York City. If you're looking at one week, try to limit your transportation time - think about the Caribbean or beautiful Costa Rica. If you have a few weeks, the whole world opens up.
Shoulder Season Deals
During the travel period known as shoulder season, most hotels tend to offer great deals and steals. So when is shoulder season exactly? Often some of the best deals can be found immediately following the holiday season in the months of January and February, and very early spring. The other well-known shoulder season for most hoteliers is just after the big tourist season of summer. Following your late summer wedding, September is a month for great honeymoon savings and October follows right behind.
Honeymoon Packages
It's the "extras" that make a honeymoon stand out from your average vacation. For a small price, most hotels offer Romance Packages which cater specifically to honeymooners. Couples should always remember to let the reservation agent know of their honeymoon, as often times, hotels will go out of their way to make the guests feel extra special in complimentary upgrades and other unique treats. When it comes to romantic packages, the deals often come with chilled champagne, chocolate-covered strawberries, rose-petal turn down service, couples massages, and more. *These make for great honeymoon items to add to your registry.
Romantic Activities
Some locations lend themselves more easily to romantic activities for couples to partake in. However, sometimes the act of simply being "present" together is enough to create memories to last a lifetime. One of the ways to do this is to create a "no television" rule upon arrival. While your days may consist of one fun activity after another, being together "in the moment" is a concept most couples tend to forget about when they're on vacation. Order room service, relax and simply enjoy each others company. Leave the television set off every night and you'll see that this may be the most romantic activity of all.