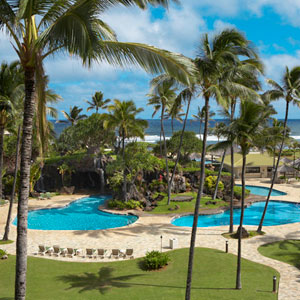 For those couples in search of that perfect honeymoon spot on Kauai, look no further than Kauai Beach Resort. The gorgeous oceanfront property -- set on 25 sprawling acres along the Garden Island's scenic Coconut Coast -- blends a relaxing tropical atmosphere with modern comforts and features. Quite simply, Kauai Beach Resort is a tranquil and romantic escape that newlyweds will find irresistible.
Picture yourself being treated each morning to a spectacular sunrise over the Pacific in your spacious oceanfront suite. Each room at Kauai Beach Resort has tropical-inspired ambiance, unique island decor, and is fully equipped with modern amenities such as Serenity beds, iPod docks, high-speed Internet, refrigerators, and cable TV, among many others. The resort features standard rooms and suites with lanais (or verandahs) and ocean vistas, plus options for views of the beach, mountains and garden courtyard.
Newlyweds hoping to unwind will find Kauai Beach Resort's Hawaiian Rainforest Spa & Fitness Center to be stimulating and rejuvenating. Enjoy a variety of treatments like massages, hot stone rituals, invigorating facials and hand therapies. Perhaps you may want to experience traditional Hawaiian techniques or receive some of the latest spa therapies, like purifying body glows, nourishing body wraps, or other skilled procedures aimed at reducing stress and promoting a feeling of wellness.
When it comes to on-site activities, the resort's impressive variety of amenities will keep couples entertained day after day. The property boasts four swimming pools (including a sand-bottom pool and a 90-foot waterslide), all surrounded by tropical landscape, ocean views, exotic lagoons and cascading waterfalls. Additionally, the resort's 24-hour fitness center features the latest exercise equipment to allow guests to partake in their preferred workout regimen. Plus, with the Pacific Ocean at the resort's front door, guests can take a walk along a three-mile stretch of tropical beach at a moment's notice.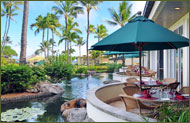 Kauai Beach Resort is conveniently located on Kauai's eastern coast, close to many of the island's top attractions, and less than five minutes from Lihue Airport. In addition to being in close proximity to Kauai's natural spectacles like
Waimea Canyon
, the
Napali Coast
and
Wailua Falls
, the resort has convenient access to many pristine beaches, waterfalls, championship golf courses, shopping, and adventure activities.
There's no need to venture far away for a memorable meal as Kauai Beach Resort offers an impressive selection of dining options for guests. Enjoy fine Hawaiian-inspired cuisine and a romantic evening at Naupaka Terrace, a plantation-style, open-air restaurant that overlooks the stunning shores of Kauai. Guests can grab some poolside delights at Driftwood Bar & Grille, which also features specialty drinks during "Puna Hana" or happy hour. Meanwhile, Shutters Lounge will be just what the doctor ordered after those long days of sightseeing and adventures. Sit back, relax and enjoy Shutters' specialty drinks, tasty appetizers, and live music.
Current packages at the Kauai Beach Resort include a "Snooze-N-Cruise" deal for those couples looking to explore the island via car, plus a "Kamaaina Golf" special that highlights local championship golf courses. Check the hotel's featured packages homepage to learn more about the latest deals and specials.
Additionally, as a 2011 Featured Hotel, it's easy to create a custom Kauai Beach Resort honeymoon registry. Within the "Instant Registry" feature on Traveler's Joy, simply select Kauai Beach Resort and your registry will be up and running in no time.
Check in with Kauai Beach Resort, the ultimate getaway for a relaxing and most memorable honeymoon. Average rates go for around $140/night. Click here for more information.